My Country
Has The Blues

Tequila
Time

Bad
Judgements

Hotel
Christmas

Airplay Direct
For radio download:
Tequila Time CD >
Bad Judgements CD >
My Country Has The Blues >
Room 203 >
NASCAR Time >

EPK for Booking:
ReverbNation >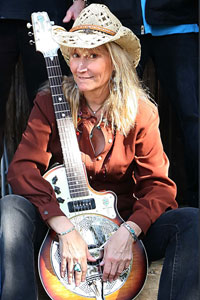 Photo by Raymond Van Tassel
Endorsed by










FFAR/ROOTS CHARTS | RADIO | PRESS | ONE SHEET | STATS | TOUR DATES | BOOKING
REVIEWS | INTERVIEWS | COMMENTS

Interviews


Natasha James: The interview
By William Phoenix, LA Music Examiner - June 26, 2012


Photo by Raymond Van Tassel


Not too long ago, your randy writer wrote about the California-based, country-croonin' cutie Natasha James. Your rockin' reporter had a chance to chat with the singer-songwriter recently with James who was recently received a 2012 LA Music Awards nomination for "Country Single of the Year" for her single "My Country Has the Blues." Here is the complete interview:

Phoenix: Thanks for joining me today! For the benefit of my newer readers who may have missed my featured profile on you and may not be familiar with you and your music, tell them a bit about yourself and your work at present, you know, who you are and what you do today.

James: Miss your feature articles? Now that's a shame…I am a storyteller and I write about the people around me, what I see happening around us, what makes us tick. My music is a potpourri of country, rock, blues, jazz, folk, Cajun. It is a "feel good laid back guaranteed good time" (the most recent words on my shows). I am finishing up my 3rd album for Highway One Records, called My Country Has The Blues.

Microsoft picked up the title track video on their Windows Media Page; I was really proud of that! This new record has the most uplifting tone to it of any so far, and is also the most universal – no plan to it, just happened that way. As a matter of fact, I am still writing songs for the physical version of the record, and these new little babies are also outward looking.

We released the digital album early because the songs were hitting #1 on the charts so fast; we had less time than we thought from first single release off the sampler to finished physical product. Matter of fact, on the Calif. Roots Chart, My Country Has The Blues shot up from 41 to 3 in four weeks, with only 3 singles released! "My Country Has The Blues" went straight to #1 on the NMW Country Chart (and) "Room 203" to #5 (#1 on Indie NMW Country).

From the looks of it, this new record is being received with as much enthusiasm as Tequila Time, which is still in the top twenty in its fourth year on the Roots Music Report Charts (Roots Country), I might add! We just released our third single, a hard driving Southern Rock tune a la Lynyrd Skynyrd, "NASCAR Time", have a listen.

Phoenix: What do you think of performing in L.A. as opposed to other locations?

James: It's not the location that I focus on, it's the audience, the vibe, the sound system and sound guy (if our own is not with us) and a whole myriad of other stuff that goes into what makes for a good show experience. But L.A. can be a blast; I have my favorite haunts.
Phoenix: What in your opinion is your best album? Why?

James: I like them all, for different reasons. They are all very different from one another. Bad Judgements has a large, jazzy feel to it, with more R&B and blues undertones; my music was compared to Van Morrison on that one; Tequila Time ups the rock ante, with a Stonesy and Allman Brothers vibe, and My Country Has The Blues has the most traditional stripped down sounds to it, with more acoustic blues, country and gospel. It also has the most consistently upbeat vibe.

I don't put any tunes I consider "filler" on my records, and we take time to sequence the tunes. My favorite cover art is the current record, yet to be pressed, My Country Has The Blues. It is orange crate art, done by a local Glen Ellen artist, Don Ponte, from a photo of me by Raymond Van Tassel.

We got the idea for the cover on the way back from playing the Ensenada Jazz Festival, eating at Harris Ranch, a great eatery off I-5 that has a fantastic comprehensive collection of orange crate art in one of its' dining rooms. Our engineer, Ronnie Rivera, had worked on that fantastic album by Brian Wilson and Van Dykes Parks, Orange Crate Art, so it is full circle for him!

Phoenix: What do you consider your best song (what album is it on) and WHY? What is your proudest moment in the entertainment industry to date? Why?

James: Oh Man. I can't say I have a favorite, but Bad Judgements is a brilliant album that often gets overlooked, despite the fact that we had a hit single off of it, "The Restless Kind." I have other favorite tracks on that record; the timeless blues tune, "Harder", the outlaw title track, "Bad Judgements," the sleeper pop R&B tune, "Even A Fool" (could also go to country), and the dance track, "Life In The City."

First albums are often overlooked and my second album, Tequila Time, has just done SO well for SO long, it brought back Bad Judgments into view and onto the charts again – as a matter of fact, for a minute, Tequila Time and Bad Judgements CDs had both the number 1 and 2 spots on RMR (Roots Music Report) respectively! I do not get tired of hearing Bad Judgements, and there is not one song I want to skip over to get somewhere else. When it is over, I am satisfied, but not sated. I think it's a timeless record, and I hope there will be renewed interest in some of those tracks.

Phoenix: Who inspires you?

James: In terms of inspiration for writing songs, there are so many ways I get a spark. On one song I was inspired by a book I read, others come to me walking around the house, they just pop in my head, you know, and I race over to the guitar or piano to work them out, some I wake up with the vestiges of a melody line and content from a dream. LIFE inspires me, and everyday observations inspire me. On a performance level, my engineer and drummer: Ronnie Rivera inspires me. He always pushes me to do my best, to deliver my best.

Phoenix: Is it just me or do some country artists feel almost obligated to tell certain stories in their songs . . . like the cheating boyfriend, the pro-America piece, the blaming the bad relationship on the guy tune, the drinking song and so forth? What do you think?

James: I couldn't tell you – not the kind of tunes I write and not a direction I come from. I never start out to write a particular style or particular anything. As it starts to come out, the song tells me what to do.

Then also, you can take a song in so many different directions just by changing tempo, instrumentation, arrangement, vocal delivery, harmonics…so I decide which of the ways I FEEL the most like it, and also, how it's gonna hang with the rest of the tunes. I can stretch those boundaries. "The Wind" (off Tequila Time) is a real sleeper, a timeless R&B 6/8 ballad, completely doo-wop romantic…

Phoenix: Now imagine I have a magic wand and I can whip it out and make your fondest wishes come true. IF you could work with anyone—living or dead—whom would it be and why?

James: I'd love to do a duet with Kid Rock, or Willie Nelson. Kid Rock: I love his energy, his vocals, his stage presence and delivery. He always owns whatever material he touches, and he's a damn fine writer too.

Willie Nelson –hands down the most beautiful sonorous voice, incredible song writer, a living icon, and always looks like he's having a good time on that stage. I'd love to have met, chatted, played and composed with Gram Parsons – soulful man - left us a legacy of immortal music. There's A LOT of people I can think of I would like to work with!

Phoenix: Funny. I've been thinking about doing something on Parsons for a long time. But anyway. I'd like you to give my readers something they have never read in any other interview with you and will never read anywhere else, OK? Tell me something you've never told any other interviewer that you might not want to see in Rolling Stone but you would be OK seeing in my column.

James: It used to be that you could say something in one magazine, and after awhile, if you really cringed when you read it, it would go away. With the net, everything you put out there stays out there and has a way of coming back…so I gotta figure, what I say here, is being put in the great outdoors…ya know?

But I can tell you: I secretly love L.A. I just don't want to live there anymore. I LOVE to visit! L.A. has these great little pockets of neighborhoods, like Easter Eggs scattered around, waiting to be stumbled into. L.A. is the one town you can be simultaneously personal and anonymous, inside and out.

Phoenix: What's next for you?

James: More songwriting…more playing…and some placement deals. Immediately what's up will be recording the next bunch of songs, and getting the record out.

Phoenix: Now here is the part where I basically let you discuss ANYthing you wish. Promote a project, your favorite charity, discuss your childhood, speak of sins committed as adolescents, (smiling) promote your daughter's latest project . . . whatever you wish. The floor is yours.

James: Wow. Whatever I want to talk about…certainly NOT sins committed as adolescents! Ya got 40 pages and as many years?

I usually do my talking through my songs, but here goes. Our universal charity and the project is Humanity and Earth. There is so much going on in the world today that I would hope we are all aware of, and a lot of that information is readily available, even with news blackouts.

I am concerned about the legacy we leave behind for our children and our grandchildren and the generations to come. I would like to impress that we are all responsible for the consequences of our choices, our actions and our convictions, and that this accountability does not die with us. I have raised two wonderful children who are both conscientious caring adults.

They are my proudest achievement, and raising them was my life's best contribution. Songs are my other babies. I hope my songs and my children continue to contribute to upping the ante of good in this world, long after I am ashes and dust.

If you are curious about My Country Has The Blues and want to hear more, the digital edition is available at CD Baby. Those of you in Northern California, our next show is Aug 24th in Cloverdale, CA. (Here's the link to it: http://www.sonomauncorked.com/wine-country-events/music-events/friday-night-live-concert-series-natasha-james/.) I look forward to getting to the LA area again soon and thank you for the opportunity to connect with your readers, Will.

Phoenix: My pleasure. Thank you, for spending time with me and my readers.
There you have it, boys and girls, a complete, unedited interview with the lovely Natasha James. Hopefully, you found it to both entertaining and informative!

As always,
My name is Phoenix and . . . that's the bottom line.

Click here to read article on Examiner.com >

An Interview with Blues/Roots/Americana artist Natasha James: Blues is more than just a style of music

Interview by Michalis Limnios BLUES @ GREECE on March 14, 2012

"Live with intent, write what you know, say what you mean, and don't look back."

Natasha James: My Country Has The Blues

NATASHA JAMES is known for taking Roots music styles, turning them on their head, combining them, and coming out with tunes that are completely unique but totally familiar (Music Connection, Aug 2008) at the same time.

On her debut album, BAD JUDGEMENTS, she had the pleasure of working and recording with old friend and monster sax player, MARTIN FIERRO (Thelonius Monk, Jerry Garcia, Zero) and reknowned keyboardist AUSTIN DELONE, among other stellar talents. That CD launched the hit single, "The Restless Kind" , and got her music compared to Van Morrison (Americana Media Guide, Aug 2008) and her voice to Janis Joplin crossed with Joan Baez (Music Connection).

TEQUILA TIME, from this prolific troubadour from Northern California, finds her once again pushing the edges of the Roots Americana movement, and upping the rock ante. NATASHA JAMES once again has some stellar musicians in her line-up. Players include DAVE AGUILAR (Norton Buffalo), with whom she did a duet that night, IAN LAMSON (Elvin Bishop), STEVE EVANS (Coco Montoya, Elvin Bishop), HERMAN EBERITZSCH (Malo, Lee Oskar), and WOODY VERMEIRE (Commander Cody), all engineered by RONNIE RIVERA, who also plays the drums in this stellar line-up. This band gets people up on their feet from rock, country, bluegrass and blues persuasions, all knocked out by the originality of the tunes and the quality of James' voice; at times like Bonnie Raitt, at times like Janis Joplin and Emmy Lou Harris (Music Connection). Award-winning Roots/Americana/Blues artist Natasha James has just released her latest album, "My Country Has The Blues"

Interview by Michael Limnios

Natasha, when was your first desire to become involved in the music & from whom have you have learned the most secrets about blues music?
I first started being interested in music at the age of 4. I started listening to the old 1930's blues artists. Just listening to their finger picking approaches and rhythmic delivery which is unusual by today's more even meter. It got under my skin, and you see it reflected in the 6/4 intro to my tune, HARDER. (on the Bad Judgements CD)

What was the first gig you ever went to & what were the first songs you learned?
The first songs I learned were Muleskinner Blues, then Daydream, then Midnight Special. I always liked fingerpicking, slide, harmonica, and a slight growl, or yodel, in the voice. The first gig I went to: Odetta, at The Troubadour, in LA. Odetta has a fantastic operatic voice. I banged on the door of The Troubadour until they let me in. I was 8. I had snuck along in the backseat of the car with my mom and her boyfriend - I had no intention of missing Odetta.

Which memory from Europe makes you smile?
There are SO MANY that do! But I gotta say, some of my favourites were in Sardegna, in Porto Cervo, in 1969. There was a great nightclub at that time called Pedro's. I was really young but fiercely independent. I returned to Sardegna years later.it has always been a place that holds some magnetic charm for me.

Do you think that your music comes from the heart, the brain or the soul?
I think the energy comes from the heart, and is fed by the soul, and is delivered into form by the brain.

Photos by Raymond Van Tassel

What does the Roots music mean to you & what does music offered you?
Roots Music to me, means REAL music.music that has meaning and feeling and is always alive, never stale. If you look at the Roots Music Report, all the artists on there, in whatever category, are all really viable, authentic, true artists. The music they create means something, says something, and is timeless. That to me is roots music. True art; it will stand the test of time. What does music offer me? Great big dollops of extreme happiness and despairing frustration! All in all, something I can't live without being a part of.

What do you learn about yourself from music? How has the blues music changed your life?
Music forces you to dig deep inside yourself to deliver the raw feeling of what is inside you that is inside that song, so you can give it out to others. The blues, and old time country (which are not far apart), have been for me, the inspiration to create music of my own. That changed my life for sure!! Music was ALWAYS what I was going to do - write and sing, since I was a little girl.

How do you describe your philosophy about the music and life?
I don't like to preach. My only philosophy as I have said before, is to "life with intent, write what you know, say what you mean, and don't look back."

What experiences in your life make you a GOOD musician and people?
It never stops. Every day you learn something new. It is good to always be open to improve yourself, your music, your perception of people and the world around you, and how you see yourself in it, contributing to it, making it a better place. Music is such a force, it is wonderful to bring up all the good happiness in people all together when you are playing and being a part of that with them. There are few pleasures and honors in life that compare.

How/where do you get inspiration for your songs & what do you think is the main characteristic of you personality that made you a songwriter?
Inspiration comes from what I see and feel happening around me. I am interested in people and what makes them tick, what motivates them to be kind, to be mean, to be fair, to be aware. I am interested in the state of the world, the state of our mutual humanity, the ways in which we choose to be or allow ourselves not to be. What makes me a songwriter is that I write about it. What makes a GOOD songwriter is to serve the song first.

Which was the best moment of your career and which was the worst?
Hmm. The worst, is when I feel I am not giving to the song all that I can and am finding it hard at that particular moment to reach inside and deliver from that raw state. Nobody else might know, but I do. Of course, it is always devastating if you feel you have not done the finest job. And the best, is when you do!! The best moments are always: making a great record, having a great gig, getting to that magical place onstage where everything is in the flow and the whole band is glowing and grooving.and the audience is part of that and you feel like time is suspended in this altered state. That is an incredible high like no other. Career though, is the question, which is not really the music. Career, hmm. The low point: when your record doesn't sell, when your management turns out to be more interested in themselves than you.all those nightmares. But you just keep going, because that is what we do. We create art. Now is a pretty good point! My Country Has The Blues just went to #1 on the New Music Weekly Country Charts, the new single, Room 203, is climbing those same charts; the past two CD's are staying strong on the Roots Music Report charts, the video of My Country Has The Blues was just picked up by Microsoft for its' Windows Media page, and My Country Has The Blues was just nominated for "Country Single of the Year," by the Los Angeles Music Awards. In addition, I have signed with new management and label and am getting ready for a tour before the beginning of this summer to raise money for Homeless Veterans.

Would you like to tell something about making this new album?
It is still in the making. We started recording it over one year ago at this great studio in Northern California called The Site. It was a very cache studio. The Stones recorded there - a whole bunch of people. George Massenberg had his Neve 8078 board there, and my engineer is a Neve guy, so that was a big plus. Aesthetically, the place is beautiful: great room looking out at tall trees, several ISO booths, good line of sight from the generous control room to the great room, and even into one of the ISO booths. The Neve board has since been sold, so the place is no longer what it was. I am happy I got to record there while it was still happening.

I was really ill during the recording, and that gave me a greater sense of urgency to get these songs out and to write very positive messages. All the vocals we used for the record on the 6 tracks we did up at The Site are scratch vocals. I like to work live when recording, and make use of the ISO booths. That way we can capture the energy of a live performance. My guitar and vocal I lay down at the same time, and hope for very little bleed. It's best just to do it right the first time! We had pretty much the same team on this record as we did on Tequila Time, with a couple of differences. This time we used flute instead of fiddle, and we used a different guitar player, James Harman, on some of the tracks. James is the young man who did the Berlin gigs with me. Still, we might end up using the violin on some of the rest of the tracks. I don't know yet - the album is still in the making. So much can happen. We did release an Advance Edition EP since we have a couple of the songs already out there. It's available on CD Baby, if you want to find it: MY COUNTRY HAS THE BLUES.

We had the cover art done by a local artist, to look like Orange Crate Art, which was the artwork on the fruit and vegetable wooden shipping crates we used to have here in this country since The Depression. They had the most amazing and colourful art on them, and we wanted to reflect that era and that consciousness for this record.

Are there any memories from studio with MARTIN FIERRO, which you'd like to share with us?
Martin was great to work with in and out of the studio, and was a deep and true friend besides. The first CD of mine we did together was recorded at The Plant, in Sausalito, CA. and one day he turned around and said to me: "You remind me of Doug Sahm" and I replied, "Well can you pick someone who is not dead and not male?" We laughed. We were always laughing together, watching westerns, thinking up song ideas. Martin played from somewhere deep inside and he always had something to say, there was never a meaningless note. That is rare. He played with intent, with emotion, so it always had meaning. He was never a snobby musician and he always had time to play with many different people, never putting one person less or more just because one was more or less famous. That is unusual. He had a true respect for music that way which he never betrayed.


Photo by Raymond Van Tassel

What is the "thing" you miss most from LA blues jazz clubs & San Francisco's 'folksy' clubs?
I don't miss anything. I did it, I moved on, I did other things. That goes for everything in my past. I lived inside my own shoes, so I was present, therefore I do not miss anything that I did. I certainly do not want to relive any part of my life but I sure do want to keep having great new experiences. I want to be able to stay healthy so I can keep on going strong for a long time. Health and time we do not get back. The rest we can create as we go.

Do you have any amusing tales to tell of your gigs with REGGAE band in London?
Amusing? No. The whole reggae scene was not at all what I thought it would be. I had naively thought it was all peace and love, you know? And it was a whole lot more heavier scene than that!

Which of historical personalities would you like to meet?
Catherine The Great; Joan of Arc; Indira Gandhi, Gandhi, Gorbachev.

Some music styles can be fads but the blues is always with us. Why do think that is? Give one wish for the BLUES
BLUES is more than just a style of music. It was formed from a way of life and as such it is part of our American cultural history, as is bluegrass, and old time country. Since music is so universal, that history that began here in the US, is now part of the global consciousness about music. One wish for the blues? That it'll just keep on keeping on.

What advice would you give to aspiring musicians thinking of pursuing a career in the craft?
Be prepared for a long road. I would only do it if you just can't NOT do it. It is not an easy road, nor is it predictable or fair, nor are there any roadmaps that apply. It is not a life choice; it is a lifestyle, and a mandate from birth. I have run away from music many times in my life, only to have it running right back at me!!

What is your "secret" music DREAM? What turns you on? Happiness is..
To be able to play anything that is in my mind. That would be phenomenal. Some people can do that.

Which is the most interesting period in your life and why?
Maybe now. There's always something around the bend that will turn out to be WAY different than anything you thought it might be. The future always holds a lot more interest than the past. The past is deep and a great well to draw upon, but the future is an enticement to be embarked upon.

How you would spend a day with Janis Joplin and Joan Baez?
Talking, drinking tea, and singing. Creating music.

Click here to read the entire interview >

Natasha James: "I Talk Through My Music"
Written by Debra Stocker on February 21, 2012

Award-winning Roots/Americana artist Natasha James has just released her latest single "Room 203" to radio. The song - which will appear on James' soon-to-be-released new album, "My Country Has The Blues" - is described by Natasha as a "straight-up country tune with a Jimmy Buffet feel, catchy chorus and Tex-Mex guitar licks" and is the follow-up to "My Country Has The Blues," a stirring ballad that went all the way to #1 on the New Music Weekly/STS Country Main Chart. "Room 203" has quickly gathered worldwide radio interest, spinning in Sweden, U.K., Australia, Denmark, Germany, Belgium, Netherlands, Spain, France, Japan, and many more. Watch video footage of James recording her new record here: http://www.youtube.com/
watch?v=Pfpo1nJODxQ&feature=colike.

All Access Magazine (AAM) interviewed the always-busy Natasha James (NJ) about her new album and a wide range of topics.

AAM: Just who is Natasha James?

NJ: I talk through my music. Everything anybody wants to know about me is there in my songs. We are all such a composite of so many types of people, and in my life, I have lived many different ways, living out my ideas to experience them viscerally. Landscapes convey emotions, ways of interpreting the world and my place in it, ways of articulating how we express our existence on the planet. Change and growth are constant, if you are not internalizing what you have lived, then you are no longer growing. I hope in ten years I will have a lot more textures to add to the tapestry that makes up my life.

What makes people tick - what makes them motivated to feel and care and be their best selves has always been a deep concern of mine. Different cultures and countries have always held a deep fascination for me. I would never choose a life lived in one country, in one language, or in one manner; that to me, would be as good as being buried alive. It was not even a conscious choice, looking back: it simply was not going to happen. I prefer stimulation over safety and knowledge over security.

Music, and short stories, are both my way of connecting with people and of working through thoughts, feelings and ideas that churn around in my heart and mind. Writing is a catharsis and a rebirth. Music is an emotional charge and release.

AAM: How would you best describe the music you create?

NJ: I would describe it as feel good, thinking music.music has got to move you.your heart, your mind AND your feet. It's gotta hit you on all levels and be undeniable. Really getting inside of people through my music is one of the highest honors, and I am glad that the success at radio also bears this out; certainly it gets heard more.

I have been described as country, rock, blues, jazz-tinged country, Tex-Mex, swamp, and it is all that. A lot of people have described my music for me, and it is probably more important how other people experience it. Once I have written the song, the song takes on its own journey as then it meanders down several paths depending on how I decide the instrumentation should be, and that also changes depending on who is in the band or what we are doing with it. There are so many ways to arrange a song: a good song has solid legs and you can pretty much take it anywhere you want to go. I tend to be guitar driven, but not in terms of instrumental breaks or textures. I like to play with the "expected" and check out other ideas.the song tells you mostly. Fiddle/violin is one of my favourite instruments, and lately, on this next record, I have some really ballsy flute lines in harmonic leads with semi hollow body guitar. It's a gospel swing tune called, "LIGHTEN UP YOUR LOAD," and we do have the "bring me to church" organ solo as well. A natural would have been a fiddle in there, but we have flute tracks and a happy accident with the guitar lead which struck us all as so cool, so that stuck. Someone in the control room - Stephen Hart or Ronnie Rivera - said, "oh, that reminds me of Canned Heat." Well, I have ALWAYS been a fan of Canned Heat, such a seminal sound, and by happy accident, LIGHTEN UP YOUR LOAD, with that flute and guitar solo, has that vibe. You will have to hear for yourself when the CD, My Country Has The Blues, comes out. It is scheduled for release (not in stone now!) around April. We have already released the title track single,(available on CD Baby), which went quickly to #1 (NMW/STS Country Main Chart)and was up for consideration of nomination for a Grammy. Now ROOM 203, the follow up single, is currently at radio and charting, so we had better get the CD finished and available for sale. I have a few more songs I would like to put on it; it is such a hard thing, to weed out the songs that will have to wait until the next recording.

AAM: One of your new songs, "My Country Has The Blues," has significant social meaning. Talk about this.

NJ: The Title tells you right away what the story's about. This country is in turmoil right now, but we are as a nation, in the history of the world, a unique social experiment. Now that we have critical mass, it remains to be seen whether our Democracy can and will survive, which is pretty much the theme of My Country Has The Blues.

Surrounded as we are by joblessness, no growth, unprecedented home foreclosures, the widest spread between CEO's and the average worker's pay we have ever had in the course of this country's history, the outsourcing of manual labour and information servicing, we are entering a period of restructuring, the decisions of which will be long-term, permanently altering our socio-economic landscape. The way in which we bring ourselves out of this morass will speak to what kind of country we truly are, and to how viable our Democracy truly is.

I didn't write the song to pontificate, educate, lecture or make conclusions. The song came out because that is what I was seeing all around me. A fan of mine made a wonderful video of the tune with pictures and quotes from the beginning of our history as a country, bookended by the album cover. I was really flattered and blown away that someone would do this. In a happy coincidence, this video was submitted to Microsoft by a radio guy who really likes my music, whose station, Countrybear.com, was recently picked up as a featured station by Microsoft, and as of the writing of this interview, it may well be that the video will be up on Microsoft's site soon, but I don't know yet .I was searching for the link to this video to include it here, and I found it - in THE NETHERLANDS! (My bass player, Marius Pelsma, is from the Netherlands, so he'll get a kick out of this!) http://occupythenetherlands.nl/2012/02/10/my-country-has-the-blues/. Check it out, hope you like it.

AAM: Who are some of the more notable musicians you have worked with over time in the business?

NJ: Famous? Or fantastic? Or both? Since I first returned to music with a record deal and free recording back at The Plant in Sausalito (closed down years ago now, such a shame. It was a great place with historic import and a cool vibe. KFOG - wonderful SF rock station - used to have private performances in Studio B. Eddie Kramer did a lot of work in that place, among others ), I have been blessed with a bunch of wonderful musicians to work with, a fantastic engineer in Ronnie Rivera, and wonderful mastering guys: John Cuniberti, Gavin Lurssen, David Reitzas. My dear friend, Martin Fierro, sax, (now gone) was one of the truest musicians I have ever had the pleasure of working and playing with. Martin cut his teeth with Thelonius Monk at 16 before leaving to play with Jerry Garcia (and many others). His was a spirit I would hope to live up to, and anyone who knew him knows what I am saying. Richie Hayward (Little Feat- his seminal and fantastic band and countless incredible musicians over his illustrious career - also now gone) laid down drum tracks on some early versions of "Fillin' Station" (latest version is on Tequila Time), and "People Like You," (recorded in a funky little studio in Santa Monica YEARS AGO, early 80's) a blues tune, ¾, Em, I keep meaning to record again: NEXT album, which WILL be called, Blues With A Twang. I keep talking about that, so I better get around to it! Richie was one of those people in my life that when he said something to me, even though other people might have said it a thousand times before, when HE told me, somehow it sunk in. Not really sure why that is, but he was that kind of friend for me. Austin De Lone, keys/Wurli/accordion/B3 -(Elvis Costello/Nick Lowe). Auddie did the first record with me which has The Restless Kind on it, now on Highway One Records, BAD JUDGEMENTS; many funny stories in the making of that record!- Bobby Black,world class master pedal steel player (Asleep At The Wheel, Commander Cody etc) extraordinaire, whose credits look like my wish list: Bobby is playing throughout the cd, TEQUILA TIME. We recorded Bobby here at the house, where we do the overdubs. His energy, and he is now in his 70's, would break a young man unused to studio hours! Bobby's licks are so tasty. He wrote the book.

I like to lay down the bones of the record live. I lay down my vocals and guitar in an iso booth at the same time, and hope for no or little bleed. (Best to do it RIGHT the first time!). We track everything live, ISO or gobos for the B3. It's great if the studio has a good line of site from the ISO booth. For me, it is the only way to capture the energy. Music is so alive, and to record any other way, you lose too much. You lose the FIRE. On Tequila Time and My Country Has The Blues, Ronnie (Rivera) is playing drums and engineering - luckily, for My Country Has The Blues, we had Stephen Hart at the board while Ronnie was drumming! Not many people are proficient at both ends of the glass (as Stephen said) but Ronnie is(ronaldrivera@earthlink.net). He's always got great suggestions for the tunes, whether it's regarding tempo or a vocal delivery, particularly a vocal delivery. Anyway, at the end of the night, or the session, I like to come away with great roughs. And we do . On the new Cd, My Country Has The Blues, all the vocals are the scratch tracks.That's the way I like to roll.Here's a little clip of us up at The Site making the record: http://www.youtube.com/watch?v=Pfpo1nJODxQ&feature=colike.

But to continue: Rafael Padilla, percussion (Chris Isaak, Shakira) is great to work with, a great spirit, a great player; Ed Roth, keys/accordion (Ronnie Montrose/Coolio) is so right on, right there. Does exactly what is being called for in the song; Terry Domingue , drums (Merle Haggard), it's thanks to Terry that Hey! Ho! is second line and Signpost is a bolero. Great suggestions, on the fly, and we laid em down just like that.question of reassessing the bpms to see at what tempo the song lived with that backbeat; Steve Evans, bass (Elvin Bishop, Roy Rogers-Ray Manzarek), Steve is a fast study, a good hang and a great bass player - and a CRAZY friend. He is the original energizer bunny! The guy NEVER stops! I wonder if he is cracking jokes at the speed of light in his sleep: Mr ADD/PHD - as he says.I could go on and on.but there will always be a few people I have not mentioned. Don't get me in trouble here!

There's a tune on My Country Has The Blues, that I co-wrote, called, NASCAR TIME, which is a real hard driving southern rock tune. On it I do a duet with Tommy Thompson, Gregg Allman's B3 player and backup singer for 17 years. Tommy and I had met up some years back at a benefit and birthday party for an SF impresario, Boots Hughston,(he puts on the Summer of Love concerts in Golden Gate Park among other things) - there were a bunch of artists playing that day: David and Linda LaFlamme (It's A Beautiful Day), me, Maria Muldaur, The Alameda All-Stars (Tommy's band), Lester Chambers, Dickie Peterson (Blue Cheer).Tommy's band, The Alameda All Stars, were the back up band for most of the acts there. My material does not allow for that, it is pretty specific, but anyway, a musical camaraderie was born - via discussing Tequila (of course!). Anyway, I had wanted a ballsy, gritty, swampy male vocal to duet with me on NASCAR TIME, so I called up Tommy. It was a good call; his vocals were a great fit with mine for the song. My keyboard player, Herman Eberitzsch, a wonderful songwriter in his own right, added some Lynyrd Skynyrd style relentless keys to it, the guitar player George Harris, a blues hall of famer out of Florida, has a screamin raunchy off the charts solo..what can I say? The song kicks ASS!

I'm really loving this new record. Everytime I hear the mix of the tunes, I get excited all over again. It's hard, because we have had to wait so long to finish it. I got really sick, so the project got delayed and now we have released 2 singles, a video, and the record is still in the making! (Well, we didn't expect My Country Has The Blues to hit #1 so quickly, and Room 203 to chart so quickly.)

It is interesting that both the other releases, BAD JUDGEMENTS and TEQUILA TIME, are still on the Roots Music Report Charts, Roots Country, Roots Country Internet, and State Chart California for 3 and 4 years now..those records have some serious legs! I am glad people like them that much, that they are hitting home.

AAM: Insofar as musical influences go, be they alive or deceased, who do you count as those who have helped shape your music the most?

NJ: My musical influences, those that resonated with me most, when I was first grabbed by music.well, let's go back to when I was 5. I had a long ride to school, 45 minutes, and the first 5 minutes was spent in debate about radio rights. I had my heart set on KRLA, LA's AM rock station. Sometimes I prevailed. Even at that age, I would stay up in the middle of the night in my bedroom with my transistor radio, because I liked the music they played in the wee hours the most.

Early country blues artists like Brownie McGee and Sonny Terry had a huge impact on me. Vocalists Joan Baez, Nina Simone and Linda Ronstadt influenced how I would deliver the notes and syllables. Country rock and blues were always what I listened to in the 70's. 60's saw me with Bob Dylan, Jimi Hendrix and Janis Joplin.who pretty much shaped my whole generation, the backdrop being the Stones and Beatles. I was always a Stones gal. Of course, they were really country rock and blues.no surprise. Allman Bros, Lynnyrd Skynnyrd, ZZ Top, John Prine, Steve Goodman, Tim Buckley, Donovan Leitch, Taj Mahal, Jimmy Forrest (sax player, best version of Rocks in My Bed ever done), Illinois Jacket - this is hard because there are SO MANY influences for me: I got into a period of deep soul, R&B and funk: Al Green, Grover Washington Jr, Bill Withers, Booker T (did a great album called, Evergreen, after leaving the MG's). For bluegrass: Tim and Mollie O'Brien ( now there's one of the best voices on the planet!), Hot Rize, Seldom Scene, Norman Blake.for rock, Tom Petty, Bruce Springsteen, Jackson Browne, CC&R. All of these artists have gotten under my skin, and whatever gets under your skin, gets inside your soul and gets churned around inside and comes back out in a piece of your own work. There are so many amazing artists who have fed my musical soul.

AAM: In the ever-changing current music and entertainment landscape, where do you see the most opportunity for your music to be seen and heard going forward?

NJ: For an independent, and Roots/Americana artist at that, I feel very fortunate. We get heard all over the world on radio, both terrestrial, satellite and internet. Just finding that video on a page in The Netherlands was something. I get mail from fans in Australia, Germany, New Zealand, NL, Belgium, UK, etc who have heard my music through these newer streams.

I would like to have my music more and more paired up with visuals and stories that are in concert with it. Film, TV, video, cable shows.it is great to hear your song playing, intertwined with another story. That is fun. I would love to see more of that.

Touring and playing out is always the most immediately rewarding, but touring can be financially and physically draining if not really properly planned, so right now I am looking very carefully at the offers to make sure that they will pencil at the end of the day. But there really is nothing more gratifying than to be able to play live for your fans. I love a good festival. Unlike most musicians I know (except my keyboard player who is also a morning person) I am a REALLY EARLY morning person. Radio DJ's and I have similar hours. I often wake up in the middle of the night and start working: I think better in those hours, better electrical energy, whatever. So for me, daytime festival gigs are my favourite. We played one that was in the early fall on the coast in Mexico. The hotel they put us up at had a hot tub overlooking the ocean, so we hot-tubbed before the show. Now that is great. I could do those kind of gigs all year long! Since I love to ski, I like festivals that allow me to do that, too. Let's face it: music might be A LOT of work and A LOT of discipline, but it's really fun too and we are lucky to be in a position that what we do spreads joy to so many and makes us so exhilarated too. I am not overlooking the gigs from hell, but I tend to forget negative things, unless they are funny.

AAM: Let's talk about your new album coming out this Spring. Any surprises on it you might care to divulge?

NJ: I am really proud of this record! When you have to follow up an album like TEQUILA TIME, that stays as an album on the charts at #1 for SIX months, whose singles chart in the Top 5 in every format, that continues to chart in its' fourth year at radio, and that has won several awards, it is a little daunting. This album has been percolating around me longer than my other albums before its' release, so I have had a longer time to assimilate it as a composite of my songs. These songs are really close to the bone. the production is the most stripped down yet; the songs are the most earthy. The title track, MY COUNTRY HAS THE BLUES, is probably the most lush mainstream rock production on the record. Several of these tunes were written, rehearsed, and recorded so fast for this record; I had not lived with them. But I felt them so deeply, and that comes across. RAGTIME BREAKDOWN on the other hand, a ragtime blues pickin' song, I had written the music when I was 18 living in Tuscany one summer, and had tentatively put words to it during my years in NYC, but never really settled on anything. Before we went in to lay down this record, all the pieces just fell into place and I felt about this song the way I did about IF YOU THINK THIS IS LOVE on Tequila Time. I just HAD to do it. It's a perky, simple but ballsy little ditty, with me on resonator, Dave Aguilar on acoustic guitar, Steve Evans on bass, and Ronnie on drums. I would like to do an instrumental version as well. We'll see. It too, has a current social statement to make, which was most unintentional. This album melds a strong spiritual sense through songs like ANGELS WITH BROKEN WINGS and LIGHTEN UP YOUR LOAD, with socio-political messages from the title track and RAGTIME BREAKDOWN. ANGELS has an American Indian tom-tom percolating through it. It was an immediate favourite of my band when I brought it in to rehearsal. The guitar break is Tex-Mex on top of that, so it has a sweet melancholic temperament with an emphatic pulse. It's actually been spinning on KZUM in Lincoln, Nebraska as part of the blues portion of the hour on The Wimmin's Show, which is one of my favourite radio shows. Deb Andersen hosts and there is a phenomenal selection of tunes by women. That show has turned me onto some of my favourite music I have ever heard, so I was delighted to be included. They did a special one week with a spotlight on me, Shemekia Copeland and Janiva Magness. I was glad to be walking in my blues shoes with those two ladies.

ENDLESS FRONTIER continues with a percolating high lonesome feeling, true grit Americana, and we introduce the flute as a low pass long lingering notes ¾ of the way through the song, and the flute takes it out. I said to Mindy (Canter, flute player and musical sister) give me a Chris Wood vibe (flute player for another of my favorite seminal groups, TRAFFIC) and she did. It's funny how she ended up on the record. I have another fantastic flute player friend, Matt Eakle (check out his music!)- he played with Linda Ronstadt for some time -but Mindy had asked if she could come up to the studio - we were recording My Country Has The Blues up at The Site, which was a fantastic studio in Marin, not too far from Skywalker. George Massenburg had his Neve 8078 there, and a huge room, wood and glass. Great board, great room, great lay out, great vibe. (The board has since been sold, so this place too is history as it was.) So I said sure. She came on the wrong day, but I guess it was the right day!

The songs on this record, from earthy ragtime blues, to Americana, to calypso beat country with bari guitar - Bakersfield meets the Caribbean - on ROOM 203, the current single released to radio 7 weeks ago and charting, to gospel swing, to swampy southern rock, all hang together so nicely. This record has a very positive uplifting undercurrent, and that is needed in these times. I can spin it over and over and not get sick of it. That's always a good sign.

Yeah, we want you to BUY it! No seriously, music sales are in the toilet right now, people stream stuff off youtube or worse, download illegally, or your income gets lost in a slush fund of metadata confusion. but making records, making songs, so that there is an mp3 file, is money, time and lots of hard work, sweat and tears and at the end of the day, to keep on doing it, to keep on creating the music that you hear, and want to listen to over and over again, can only be possible if we can make enough money from it to live on and have a bit left over to pour right back in to create more art. So there has got to be an awareness that if the people who listen to music want the artists they like to be able to create more music, they have got to buy their records, not just go to their concerts.

AAM: Best gig you've ever played? Worst?

NJ: I already mentioned one of my favorites: The Ensenada Jazz Festival. The Tequila Festival was another fun one, both of these in Mexico. The Harmony Festival in Santa Rosa was well organized and great sound as well. The lighting was a bit off, but a nice perk was getting great massages backstage before our show. The worst gig of all: oh, there's been a lot of those: probably the Hempfest in Oregon. The promoter promised us rooms and money. There were no rooms and no money. The stage was disorganized. The backline was rudimentary, the sound was equally ill done. We were tired, hungry, oh yeah - did I mention there was NO FOOD! - but we gave a great show and had some laughs with each other on the way back to California. My band travels really well together; they are all a great bunch of guys, and gal, and shows like that, you really see how you make muster. They were all stars.

AAM: If you could set and control your own course in the music business, where would you like to be five years from now?

NJ: Most importantly: alive and healthy, writing and playing music. I would hope to always remain full of ideas and enthusiasm, and never get weary, always keeping inspired and trying new things. I would like to have the freedom to write and sell songs, write for others, write for film, get my short stories published, collaborate with authors and songwriters and screenwriters and always have an avenue to develop a creative idea and put it into production, release and distribution. I would also hope it pays!

AAM: Any parting thoughts?

NJ: Thank you for being interested enough in what I do to take the time to interview me. I appreciate the opportunity to connect with your readers. I hope you enjoy my new record, My Country Has The Blues.

http://www.cdbaby.com/Artist/NatashaJames1

Click here to read the entire interview >

Natasha James: Girls Rock!
By William Phoenix, LA Music Examiner, November 13, 2011

Natasha James is a California-based, up-and-coming singer-songwriter whose music is a blend of different roots genres including country, bluegrass, folk, rock, jazz, blues and even a bit of zydeco, klezmer and norteno. James' musical influences and interests go way back. Born in San Francisco, she had an interesting childhood.

James was raised in Southern California, Switzerland, Italy and England. She first began performing at the age of 14 appearing in local L.A. blues and jazz clubs. At the age of 16 she would move back to her birthplace. There she would play "the 'folksy' clubs: Coffee Gallery and the Boarding House, among others."

At 18 she returned to L.A. where she resumed a previously brief modeling and acting career. She studied at Lee Strassberg's and scored various small roles as a character actress. She then relocated to Europe where she would once more get gigs playing and singing a mix of covers and her own material while working on a degree in languages and literature.

She dropped out and moved to the UK where she joined forces with a reggae band playing regularly upstairs at Ronnie Scott's as well as going on tour in northern England. While there she wrote some noteworthy lyrics to a Jeff Hunter tune. That project resulted in her return to Los Angeles to continue to write, record and perform with numerous known and not-so-known musicians.

James was also still regularly working as a model, working in movies across the country and playing her own songs from New York to Los Angeles. She moved to New York City, formed her own band, Good 'N Dusty, and played at several local clubs. Her music also began getting airplay on both WFMU and Channel J for Videophile.

Presently back in California, James is building a fan base across the nation. In fact, more recently, she has become "a Bay Area staple" doing her thing with other artists covering music from various genres including Americana, bluegrass, blues, funk, jazz and rock. She recalls hearing a famous performer once telling an audience: "I'm not here to entertain you."

This experience left an impression on her and she assures her fans that she has the right attitude. "I love the feedback and interaction of a live setting. I'll change a set list or do whatever I need to roll with the feel of the crowd or take us on a journey together." James realizes how fortunate she is and states: "I feel so fortunate to do something I love as an artist."

Her 2008 debut disc, Bad Judgements, is now on the state Roots charts and the Roots Country charts. Its 11 cuts includes the title track and lead-in "Bad Judgements", "Bad judgments with good intentions have been my stock in trade. The warning signs and red flags go unheeded every time I see them at the gate." It also includes a couple of her early favorites "Just Enough and "Hey! Ho!"

Of "Just Enough" James says: "I am most pleased with that one. In fact in all honesty, I'm astonished that I wrote it." The humorous "Hey! Ho!" was the result of "a tongue-in-cheek exercise". James admits: "I was performing it as a swing tune and drummer Terry Domingue (Merle Haggard) suggested we perform it with a New Orleans flair - and it worked."

The album includes an assortment of other artists assisting James including: sax player Martin Fierro (Thelonius Monk, Jerry Garcia) and keyboardist Austin Delone. The release birthed the single "The Restless Kind". Some critics compared her voice to the likes of Joan Baez and Janis Joplin and her music to that of Van Morrison.

The single reveals the rebelliousness in James' soul. She admits: "I don't like a lot of rules. This particular song reflects the stage in my life where I realized I had been blessed and attained many of the things I had desired including a great home in a nice neighborhood and kids that I love."

James continues: "I had consciously put my music aside to achieve many of these things. But as I moved forward in my life, I missed connecting with people through my music and was becoming . . . restless. My new album has brought me back to my music and my desire to connect with people through my recordings and live performances."

James would continue to write and perform live and in 2009 would release her sophomore CD, Tequila Time. This disc contains 15 cuts of her signature sound of mixed musical genres. As per usual James takes lead vocals and a great deal of the guitar-playing responsibilities.

She is backed by bassist Steve Evans, percussionist Rafael Padilla and drummer Ronnie Rivera. Also appearing on the album is an assortment of additional artists including: Dave Aguilar (Tex Mex guitar, dobro and resonator), Ian Lamson (guitar), Herman Eberitzsch (keyboards, B3 and background vocals), Bobby Black (pedal steel), Woody Vermeire (violin), Ed Roth (piano, B3 and accordion), and Kerry Daly (background vocals). The album opens nicely with "Takes Alotta Love".

The title track, "Tequila Time", is reserved for the second slot. Not opening with this one was a brave move as it truly is one of the strongest tracks on the album. This one is highlighted by an almost Latin-like vibe that practically permeates the piece.

"Boy Do We Drink" receives "Critic's Choice" here. Yeah, it's pretty much a requirement when you do this kind of music to write one about drinking but this one is different enough to stand apart enough to work. It's followed by the upbeat "Cheetah On The Run" which features some noteworthy accordion and percussion. Both of these were written by Herman Eberitzsch and arranged by James.

The following cut is "Get Out Of My Way". This one has an almost Allman brothers-like element to it. It includes Danilo Paiz on percussion as well as Aguilar, Rivera, Andrew Mastroni and Seth Cohn assisting on background vocals.

"Straight To Hell" is another notable number here. This one reveals a bit of a rock influence vaguely reminiscent of early Rolling Stones. It's one of those songs that is probably even catchier when played live. It leads quickly into "Stuck In Atlanta" on which James hands over the guitar to Aguilar.

The catchy "If You Think This Is Love", "I Don't Care" and "Somebody Just Blew It" come next. They provide further evidence of just what James can do. With a voice vaguely sometimes reminiscent of such country great as Loretta Lynn or blues babe Bonnie Raitt, James puts out another fan favorite with "Ain't Done Nothing Wrong". This one contains some classic musical elements standard to the genre and yet James makes sure you know it's her work here.

James further proves her talents with "Fillin' Station", "Let Me Cry" and "The Wind"-all of which some online critics enjoyed if not downright praised. The closing cut, "Modern Life" is mentionable for its look at the way we live our lives today. This and many of her other songs include well-known musical elements but largely unique personal viewpoints and observations. "I never intentionally try to pen a tricky hook or intricate melody. I write for myself based on stories that come from my life experiences."

The disc debuted on the Roots Charts at number 19 in the state, number 20 in the US and number 23 internationally. As of this writing, the album was at number one on the Roots Music chart for over 6 months. James has been promoting her music and been featured in such publications as The Sonoma Index Tribune, New Music Weekly and Music Connection.

James took the 2009 Los Angeles Music Awards "Country Album of the Year" for Tequila Time, the "AC New Artist" award from New Music Weekly, and a "Top 100 Artists" "nod" from Music Connection. James took the LAMA's 2010 "Producers Choice: Country Songwriter of the Year" honors. She also interviewed and/or played live on such radio programs as "Mindy's Mix" on KRCB 91.1 FM. She went on an international tour and then headed back into the studio to work on new material.

In fact, she recently released an EP sampler My Country Has The Blues on the Highway One Records label. It includes three of her newest songs: "My Country Has The Blues", "Angels With Broken Wings" and "Room 203". The title track is undeniably catchy but also current with a simple yet significant message.

It recently climbed to the top spot on the New Music Weekly/STS Country Main Chart. James commented: "I think it is a timely song for what is happening all around us, and people relate to it instantly. It makes the connection between the way we feel as individuals, and the fact that any country is simply the sum of its individuals, so all hearts do beat as one, which should be an obvious conclusion, so the song cries for a unity which is much needed in these times."

She added: "It's great to have anumber 1 song,it's always a mystery what is the magic element, so I am happy that 'My Country Has The Blues' has resonated with everyone so well." Ah but "Critic's Choice" here goes to "Room 203". It's nice to hear a country gal not singing a song about how her ex is responsible for her troubles. This one is not your typical country cut about drinkin' and whorin'.

Finally, James is also up for nomination for consideration for 2 Grammy nominations. James explains: "We are on the Grammy ballot . . . up for Nomination. It is a great honor for "My Country Has The Blues" to be considered for Best Country Song . . . and it is an honor for me to be considered for Best New Artist. It is an honor to be on the Grammy ballot, period. So whatever may come of it, there is only an upside . . ."

The truth is, James not only "ain't done nothing wrong" but she just may have done something very right.

My name is Phoenix and . . . that's the bottom line.

Click here to read the entire story >

Americana/Roots Artist Natasha James Scores #1 Hit with "My Country Has the Blues"
By By Joanna Parker, November 11, 2011

"My Country Has the Blues," a stirring ballad by respected Americana/Roots artist Natasha James, has gone to #1 on the New Music Weekly/STS Country Main Chart.

James is up for consideration for two 2012 Grammy nominations - "Best Country Song" for "My Country Has the Blues;" and "Best New Artist."

In "My Country Has the Blues," James once again shows us she has her finger on the pulse of the human condition, with lyrics as insightful as they are timely and universal, and married to an infectious musical track guaranteed to have you singing along, with the words running in your head long after the song has ended.

Valley Scene Magazine recently interviewed James about her new single going to #1, her Grammy nomination prospects and more.

VSM: Congratulations on your new single "My Country Has the Blues" reaching #1 on the Country Charts! How did that come to happen?

NJ: Thank you. I think it is a timely song for what is happening all around us, and people relate to it instantly. It makes the connection between the way we feel as individuals, and the fact that any country is simply the sum of its individuals, so all hearts do beat as one, which should be an obvious conclusion, so the song cries for a unity which is much needed in these times. It's great to have a #1 song, it's always a mystery what is the magic element, so I am happy that My Country Has the Blues has resonated with everyone so well.

VSM: You're also up for nomination for consideration of 2 Grammy nominations. Discuss this process?

NJ: Well, we are on the Grammy ballot along with many other great artists, all of us up for Nomination. The voting members of NARAS have until Nov. 2nd to vote for the final Nominees. Of those Nominees, a few will walk away with a Grammy. It is a great honor for MY COUNTRY HAS THE BLUES to be considered for Best Country Song, that is a tough category, and it is an honor for me to be considered for Best New Artist. It is an honor to be on the Grammy ballot, period. So whatever may come of it, there is only an upside to being here.

VSM: During the course of your career, who are some of the artists who you count as your main influences?

NJ: There are a vast gamut of them in many different styles of music, which is reflected in the strains I blend together...like making a good balanced wine, I suppose. Van Morrison, Tom Petty, Jackson Browne, Jerry Jeff Walker, Bob Dylan, Linda Ronstadt, Neil Young, Stones...I think anyone's list could fill up many pages, and these are the first coming to mind.

VSM: What is the music business like today compared to when you started out (compare and contrast the differences)?

NJ: Records sold. Radio hits generated record sales. There was a budget for projects and labels had room for what I will call their "middle class" or genre-specific (read: Roots or simply "not Pop") artists. There were record stores where you would go to listen and bring home an album. An album was a complete statement, with room for great artwork, liner notes, history and commentary; fitting all that magic into the space allotted for a CD is challenging, and we have lost a lot of that intimate connection because of it. We used to think in terms of a complete package, sequencing the songs for a great flow. We still do that, but with the return to the singles market via download sales, even full CD's might be on their way out in favor of a short 5 or 6 song EP with more frequent release dates possibly. Who knows... certainly we are trying out a lot of different ideas at this time.

There is always opportunity in a reshuffling business paradigm, and we have yet to see where that will lead us as writers and artists and labels. Music is certainly more accessible to everyone now, and in some ways the internet stations are to music what FM Radio used to be, except with FM radio there were limitations, and those limitations were the conduit, and now with Internet radio there is no conduit. There is a lot out there, but hard to find it all. There is a huge demand for quality music away from what Mainstream, short playlist radio is giving people and internet radio is doing it, satellite stations as well, and this is where people go. They DO know the difference between music that has soul in it and music that does not, and they WILL seek it out. These are the fans that seek out an artist and support that artist with their enthusiasm, dedication, festival/show attendance, and CD purchases. They are also the fans that will download singles to their mobile devices. There is an audience, there is a market, and there is tons of talent...now there are more outlets than ever...and the confusion will be in learning how to find and use them.

VSM: With all your recent success and momentum, where do you see your career going, moving forward?

NJ: I see myself doing the same thing I have always done...writing songs, recording songs,playing for people, selling songs, placing songs...hopefully just with more opportunities to do so and a little more budget to do it with. In the immediate future, finishing the MY COUNTRY HAS THE BLUES CD, and getting that ready to release. I am looking to move forward regarding shooting the video for MY COUNTRY HAS THE BLUES. With Tequila Time, we shot 3 videos before the record was released. This time, the single is released and is now at #1, so quickly, and we do need the video. After My Country Has the Blues is finished, there are a couple of EP packages I would like to put out, and our hat is in the ring for a few projects we'll just keep on doing what we do.

ROCKWiRED RADiO PROFiLES PRESENTS:
THE ENGAGiNG SOUND OF NATASHA JAMES AND HER POIGNANT NEW SiNGLE MY COUNTRY HAS THE BLUES
INTERViEW BY BRiAN LUSH - November 23, 2011

Perhaps it's the timing, given the challenging condition our economy is currently in; then again, it could simply be the quality of the song itself. Or maybe it's a little of each. Either way, the politically- and socially-charged new single from Natasha James, "My Country Has The Blues," (Highway One Records), released to national and international radio to coincide with Independence Day, became the #1 Most Added Single to Radio shortly after its July 1 release. Adding to her already high profile in the Country/Americana world,Music New Nashville profiled James in a Cover Story ("Natasha James - An American Troubadour") this past June. At the same time, James' critically-acclaimed, award-winning 2009 album, "Tequila Time" has been at #1 on the respected Roots Music Report Roots Country Internet Chart for almost four months! Produced in conjunction with Stephen Hart (White Stripes, Neville Brothers, John Lee Hooker) at The Site Recording in Marin County, engineered by Ronnie Rivera, and mastered by multiple Grammy winner Dave Reitzas (Barbara Streisand, Barry Manilow) at Westlake Studios in Los Angeles, "My Country Has The Blues" is a timely anthem for what is happening all around us in our country, a catchy tune with James' unique Americana blend of country, blues, roots, and rock.

Click here to listen to the interview ›

Natasha James
By Country Start Page, July 10, 2011

Why country music ?

~ My music has found a home in country; it is a mixture of alot of influences: country, bluegrass, folk, blues, rock, jazz, zydeco, klezmer, norteno, which is really Mexican polka....

If everything would be possible (waking the dead included) , which two people should sing the ultimate country duet?

~ Patsy Cline and Willie Nelson.

Which song you ever recorded means the most to you and why?

~ Oh, I suppose that would change depending on what day you asked me this question. Songs are so much about what mood we are in, and what we are going through, that somedays one song will make much more of an impact on you than other, so I could not say an absolute. Usually I am most in love with the current songs I am writing and recording at the moment...so the ones I would pick would be the ones that will be released on my upcoming CD, MY COUNTRY HAS THE BLUES, which you have not heard yet.

Who would you like to write a song for you?

~ To write a song for me? Aah, Willie Nelson, or the team of Mick Jagger and Keith Richards.

Whisky wine beer or water?

~ Aah, Now we get to what stage of my life I'm in and how many roads I've gone down!! In my youth, whiskey; in my early middle life, wine; at an outdoor festival, beer; for everyday and on stage, water, and lots of it!!

What is the question interviewers never asked you while you were always hoping they would. (and give us your answer)?

~ I can't think of much I have not been asked. I can think of alot I haven't said!! :-) If anyone has any questions for me they want to know after reading this, I'd tell them to write in to your magazine, and I will be happy to answer.

Describe the ultimate recording studio (not the technique but the facilities)

~ The ultimate studio for me is always one in which I feel comfortable, period. Obviously, assuming a great board, a mix that translates well, good iso(lation) booth eye contact with main room etal since I like to lay it down live; but in terms of environment, a verdant, country setting with guest house a short walk surrounded by trees, kind of a farm-like atmosphere, I always prefer, if I am going to be digging in for a bit.

Johnny or June ?

~ Why choose? They did such a great job as a duet. Both were great writers and great performers.

Give us your top 3 country songs ever.

~ Wow. That's really tough. "Poncho and Lefty," "The Night They Drove Old Dixie Down," "King of the Road." I am sure I will wish I had thought of other fantastic tunes to list but these are the first three favourites that I can think of right now!

What is your most important message to our readers?

~ Live with intent, write what you know, mean what you say, and don't look back.

Natasha James - An American Troubadour
By Eric Harabadian Posted online May 3, 2011 by Dan Harr


Read Music News Nashville, July 15, 2011 issue online.


Natasha James is an American troubadour in the purest sense of the word. The Sonoma, California-based singer-songwriter emotes from her soul and approaches her material with an authenticity and grit that harbors no pretense or fabrication. She speaks the truth and her songs are vibrant and illustrious stories that are as compelling as those of Woody Guthrie, Lucinda Williams or Gram Parsons, of whom she is often compared.

James has also served as a musical ambassador, of sorts, recently taking herself and guitarist James Harman over to Europe for some select dates this past February. "Many years ago I toured there in the '70s," says James. "I was really happy to go back because it had been so long. Back then there were borders between the countries and there was none of that now. I loved performing in Germany and European audiences, period, are right there with their fans; they're really enthusiastic. They buy merchandise and we had fans that downloaded my pictures from the web and printed them on 8×10 paper for me to autograph. Of course, I brought 8x10s for them anyway but their enthusiasm was really great!"

The duo recorded a club date in Mannheim, Germany that is slated for upcoming release on a German label. And the gracious fair-haired James had nothing but great things to say about her touring counterpart. "He turned 21 on the plane flying over to Paris," says James of guitarist James Harman. "He's a seasoned musician who's a monster player. I have no doubt that by the time he's 35 he's gonna be a world wide household name. Watch out for him!"

Back in the states the soulful and smoky voiced James has been hard at work devoted to putting the finishing touches on her upcoming album and single My Country Has the Blues. It is a cleverly crafted title in that her original sound has historically been a seamless blend of country and blues. From earlier albums like Bad Judgements to her previous award-winning effort Tequila Time, James has always found a home in both worlds. But with My Country Has the Blues there is a deeper irony and meaning behind her lyrical and musical content.

"I get put on a lot of country stations and a lot of blues stations too," explains James. "There's really not that much difference between the two when you think about it. You put a slide guitar, harmonica and a B3 organ in there and it's a blues tune. You add a fiddle and a pedal steel and it's country. So I thought 'my country has the blues.' But then, of course, I thought about all that was happening with our nation." James' manager actually encouraged her to express some of the concepts and ideas they had talked about in conversations regarding world events and including them in a song.

James' odyssey toward the making of this album intersected the perfect storm of visual art paired with socio-political commentary and personal enlightenment. Following a return from a gig at the Ensenada Jazz Festival, James was driving home on California's I-5 freeway when she stopped for dinner at a place called Harris Ranch. The restaurant's orange crate art on the walls became the inspiration for her upcoming album's vintage looking cover.

"I thought cover art in that style would echo back to America during the depression and back to the land," says James. "From fruit pickers on up-we are all part of this human equation and part of this country. And I get so tired of people that wanna spread hatred and point fingers that will divide and tear us apart as a nation."

The country-blues chanteuse pauses thoughtfully and then continues, "I don't care if they are from the Tea Party or if they're right or left wing. I do care if they're committed to making this world a better place for each and every one of us. I wanted to galvanize people and get them to work together in a conscientious fashion."

James has always addressed various aspects of the human condition in her songs but there is a passion and purpose to My Country Has the Blues that is personally unprecedented for her. There is a maturity and evolution in her sound that is at the fore.

"I've been talking to a lot of people that I know from every political persuasion and everyone thinks they have the ticket to heaven (laughs)," says James. "I say the only 'ticket' here is let's work together as a nation and let's put this back together again. That is what the song is about. And it all ties back to the cover art-make this country remember its roots and remember where it's been. Everybody whines so much. We need less whining and a little more action!"

The album My Country Has the Blues will feature many of the same people James has been working with for years now including engineer and drummer Ronnie Rivera, bassist Steve Evans, keyboardist Herman Eberitzsch, lead guitarist/backing vocalist James Harman, guitarist/backing vocalist Dave Aguilar, flautist/backing vocalist Mindy Canter, backing vocalist Russ Whitehead and backing vocalist Kerry Daly. It is produced in conjunction with Stephen Hart (White Stripes, John Lee Hooker, Neville Brothers) and mastered by four-time Grammy winner Gavin Lurssen at the Site Recording in Marin County, California.

This album also has an interesting subtext to it that was naturally born out of James' own personal challenges and struggles. "This record unintentionally has a spiritual feel to it," explains James. "I was dealing with some serious health issues and am out the other side now. But when you get critically ill you really get taken down to what is really valuable in your life. For me it was my children, my family, leaving behind a legacy of good music and making time for the people I care about. So at the same time the country was going through these blues I was going through some of them myself. I recorded the album with double pneumonia and a collapsed lung. But, you know what; all the scratch vocals are the ones I'm using on the record. It's what it is and it's good, it's real."

And, when referencing Natasha James and her material, "real" is most certainly the optimum word here. Much of My Country Has the Blues are songs about everyday people and their striving to live better lives and improve. This is illustrated most beautifully in songs like "Angels with Broken Wings." It's about all of us trying to be the best we can be but still riddled with many flaws. In it she writes: " I see that glimmer of hope in each and every eye/it's a window to the soul/we keep passing like ships just out of sight/and we try and we try and we love so strong/hoping that by and by we'll get it right not wrong." Another new song "It's Really Over" addresses the fracturing of a relationship with a rare depth and poignancy as James states: "We've been rude and too polite/we've been wrong and we've been right/what we haven't been is here in some time. That's when you know it's really over for sure, when you don't want to even argue anymore. And then, of course, there is the single and title track of James' new album "My Country Has the Blues" which at its core states: "My country has the blues/she's just like me and you/she's trying hard but she's confused/we better help her to get through/instead of standing on the sidelines, we better get some guidelines/instead of criticizing, we better start uniting."

"Much of the new album is observational," explains James. "I get so annoyed because a lot of people's writing is all I.I.I! You wanna tell them please go get a diary and shut up (laughs)!"

Natasha James upcoming album My Country Has the Blues-featuring cover art by Don Ponte from a photograph by Raymond Van Tassel-is slated for release in September 2011. The single is being released to radio as we speak.

"I've got the same team on this record I've been working with and that's nice because everybody knows the kinds of sounds and tones you're going for from jump," concludes James. "This album will be even rawer than the last one."

Natasha James Interview with David Mobley on
The Songwriters Webcast
By The Songwriters Webcast - June 20, 2011

Listen to David Mobley's recent interview with friend and super Singer/Songwriter Natasha James - winner of the 19th Annual Los Angelas Music Awards "Country Album of the Year" for her huge hit CD "Tequila Time"!

Musician, Singer, Songwriter Natasha James speaks to Sarah Emily for TellThemCountry.com
By Tell Them Country - March 3, 2011

Hailing from Northern California, Natasha James has definitely been making herself known! Not only with her album, Tequila Time still going strong, debuting at #20 on the Roots Chart and staying on the chart for 14 months, she is now embarking on a new European Tour. With her mix of country and bluesy rock, this woman is certainly one to look out for.

Natasha has very kindly taken some time out though, to do a special interview just for Tell Them Country, telling us all about her new tour, the ever strong album and what her hopes are for 2011...................

Who were your idols when you were young? Who/What inspired you??
I didn't really have idols. When I was very young, I listened, played and sang to the records my mother had around the house, which was mostly old folk music, both American and Irish, and old blues. So, Susan Reed, Joan Baez, Judy Collins, Bessie Smith, Odetta, Nina Simone...then when I was older, I of course listened to what was then rock and roll, mostly: The Lovin Spoonful, Buffalo Springfield, the Stones, Bob Dylan, James Taylor, Linda Ronstadt, Janis, Jimi...I think our generation was shaped by Dylan, Janis and Jimi and the grand backdrop being the Beatles and Stones.

I have always like the swampy side of country and blues and that comes out in Tequila Time, and actually, that is my favourite rock as well...my favourite Stones albums are Exile on Main Street and Beggars Banquet, which have allot of that. I love Lynnyrd Skynnyrd, The Allman Bros, ZZ Top, then the mellow stuff like John Prine, Robert Earl Keen and my latest favourite, Amos Lee.

You write your own music and lyrics, where do you get your ideas? What kind of process do you use, if any, when writing?
Usually I have an idea for a song and out it comes. Alot of songs I have written in the shower then quickly gotten to my guitar and worked it out...choruses, bridges, little riffs with the melody and lyrics...some I have written on the piano, but none of those have made it to vinyl. (yet) Sometimes I have awakened with a song running through my head and sometimes I am driving in my car and out it comes...there is really no process. Some songs have been around half-baked for years and eventually come out, some have been combined to make one good song...I prefer the ones that just pop out - but don't we all?

My ideas? An amalgam of my own life, people around me, it all melds into one - always there is a preoccupation with what makes us tick, what makes us feel.

I try to make sure the song has good movement, that it doesn't stall or lose energy in the wrong places; that's a feel thing. It has got to be charged from beginning to end. I can be pretty ruthless editing myself. It is hard to edit out a great bit that is unnecessary for the song. I try to remember those little ditties cause maybe I can use them somewhere else.

You are currently on tour? Are there any places you are really looking forward to going?
I just got back from Europe and I had not been since before the Euro. It was really strange, no borders on the trains...I look forward to everywhere. It is always exciting to discover new things in a city or town each time you go and I look forward to the next time we are back, hopefully for a 2 month tour with a few days off to look round. Touring is a strenuous undertaking and it is hard to get to see all you want to in a place and do your job as well.

Tell us a bit about your newest album, Tequila Time? What can people expect and look forward to from this album?
Tequila Time has actually been out awhile now and has stayed on the charts over 14 months with some record numbers. According to the reviews, it is a solid disc and I get compared to Gram Parsons frequently, which is a huge compliment. It is solid bluesy country rock and borrowing from some old Delta traditions, and my influences from the likes of John Lee Hooker, etc...AINT DONE NOTHIN WRONG which is really all in one key, only I am riding the A string down under that constant E string D string rhythm creating the tension of movement, the illusion that it is more than a one chord song. That was quite typical in old blues player's songs.

You were recently award the producer's choice, Country Songwriter of the Year. How did you feel about that??
It is always great to win any award, but a Songwriter Award is particularly dear to my heart. It feels so much more worthwhile when people really notice the songs. When I got back off the road, my family had hung the gold awards on the wall of our rehearsal room, that was a really cool feeling, seeing them all in a row, hung up. Gave me heart, like what I was doing was important to them, too.

And finally, what does 2011 hold for you? What are you looking forward to? What are you NOT looking forward to? Plans? Dreams? Hopes? Fears?
I have a new record coming out, My Country Has The Blues, and am right now working on a new distribution deal for this plus the 2 prior records which should bring a little more light to our work, specifically in the UK. Wish me luck!

I lived in London years ago and would love to return with this next CD. Also, I have been asked to write for various reality TV shows and I hope that my material continues to draw interest for the shows and that we get more and more placements.

My hopes? That my family and I are happy and healthy and make wise decisions with not just music but our lives as well. I hope that we as a species get a handle on our treatment of each other and the planet. I hope to write songs that continue to resonate for people and feed their hearts, souls and minds. I hope to be able to remain healthy enough to tour widely so I can play for the people that want to come see me, that have written asking me to please play their town, their country etc..It is a big beautiful world; I would love to see as much as possible in my lifetime and play as many wonderful places as become available for me to do.

Thank you for the opportunity to answer these questions. Your readers are welcome to write to me anytime. I have a mailing list at www.reverbnation.com/natashajames, and I do write back!

Natasha

ActorsE Chat with Natasha James
2010 LAMA Country Songwriter of the Year with guitarist James Harman - Nov. 18, 2010


Brett Walkow, comedian, MC's the show. James Harman accompanies Natasha James on guitar on a few numbers, interlaced with some funny tales Brett got out of Natasha.

Los Angeles Music Awards Voting Party
Live Interview of Natasha James by Anu Sood - www.rockaholicz.com
October 7, 2010
Recorded by Anu Sood @ Whisky A Go Go, West Hollywood, CA



Anu Sood © 2010. All rights reserved. *** CHECK OUT WWW.ROCKAHOLICZ.COM ***

Americana's Up and
Coming Artist
By Nashville Country Club - July 14, 2010





Natasha James, a singer-songwriter from Northern California, is a rising artist on the Americana music scene. Her debut album, Bad Judgements, features rock, country, bluegrass, and blues persuasions. Her sophomore release, Tequila Time, debuted on the Roots Charts at #20 in the country. We talked tequila, travel, and more in our Q&A with her:

NCC: What was it like to begin playing and singing in blues clubs at age 14?

NJ: It really didn't feel like anything out of the ordinary; it was just what I was doing. I had always been entertaining people- at school when I was eight I would play for them, then as kids at the beach we would make up jingles and dances for commercials and perform them for the adults at cocktail hour...that's just what we did. I did get to perform alot of 20's & 30's blues: Sippie Wallace, Bessie Smith, stuff I was listening to at the time.

NCC: What made you pursue music instead of an acting/modeling career?

NJ: Really I was never interested in modelling as a career. My mother got me started in it when I was 4; I liked the clothes, but I was always happy to take them off and put on sweats! As for acting, well acting was the world that I was surrounded in and I enjoyed it - I write character-driven plays and short stories - but it did not pull me in the way music always did. You know, just because you have a talent for something, people think you ought to do it, and that is certainly what my mother had in mind for me. I would not say that I pursued music either, it is just what I always have to do. I would say that music pursued me and I give in. I love music, I can't not write, and I can't leave it alone. My relationship with music is like with a lover: can't live with it; can't live without it.

Facts in Five with Natasha James
By Outlaw Magazine - June, 2010

Northern California Songstress, Natasha James, is making a name for herself in the Roots Music Scene. With a unique blend of bluesy rock, country and even flavors of bluegrass, James' grooves compliment her salty and sultry vocals. Her latest effort, Tequila Time, debuted on the Roots Charts t #20 in the country, #19
in the California, and #23 Internationally. She's the first Artist to participate in Outlaw's new Facts in Five series where OM asks five questions to gain a quick look into the life on an Artist.


OM: What Artists have had the most influence in your music?
NJ: My greatest influences musically (early on) were: Bob Dylan, for writing, I used to be an anthology of his songs - knew all the lyrics to Desolation Row, etc. Jerry Jeff Walker, John Prine, Jesse Colin Young (matter of fact, I named a band of mine in NYC years ago, Good 'N Dusty, after the title of one of his albums), and Neil Young. Musically, probably Taj Majal, Brownie McGee and Sonny Terry, also Lovin' Spoonful, Van Morrison, Tennessee Ernie Ford, Roger Miller, and Traffic. Vocally, Joan Baez, Judy Collins, Nina Simone, Bessie Smith...and later on, Janis Joplin and Linda Ronstadt.


OM: What age did you start writing?
NJ: I started writing at around 13 but nothing I wanted to save. I sold my first song at 19 or 20. I was living in London; I co-wrote the tune with Jeff Hunter, Tab Hunter's son, who was in L.A. After that, I moved back to LA for awhile.


OM: How do you feel about the overproduced commercial music of today?
NJ: I don't think of it as music. I think of it as a presentation. A conceptual product layered by a team of industry marketers ostensibly designed to be commercially successful. I question its' viability on any level without the vast sums of marketing dollars pumped into these "projects."


OM: Any plans to tour Texas anytime soon?
NJ: I would LOVE to tour Texas anytime!! Matter of fact, this has been on my radar for quite awhile. My dobro player, David Aguilar, is from Texas (he also did the tex-mex leads on my CD Tequila Time and will be on the new song I am laying down, Room 203). He has played the Kerrville Folk Festival several years running with Norton Buffalo.... this is something I would love to be part of! I have always had Texans in my line-up, seems like the cats that get what I am about musically. are always from Texas.


OM: What inspires you?
NJ: I am inspired by that which depresses me and that which gives me hope. So much of the greatness of the human spirit is revealed in times of plenty as well as times of deprivation. Perhaps the human spirit is just as tough to sustain in times of plenty as distractions can be a persons' undoing. We have all written about rising from the ashes; perhaps I should write a tune about rising from the riches...so many fall so hard there. Hmm... I will revisit this thought with a cup of black tea and an English muffin. Lately, I have a few musical pieces roaming around my fingers with no lyrics, which is unusual. I was told I started talking at six months old and haven't shut up since...maybe I'm getting quieter now.

For more on Natasha James: www.natashajames.com

Up & Coming New Nashville - Natasha James (with Exclusive Interview)
By That Nashville Sound - Monday, April 26, 2010

Natasha James is known for taking Roots music styles, turning them on their head, combining them, and coming out with tunes that are completely unique but totally familiar at the same time.

On her debut album, Bad Judgements, she had the pleasure of working and recording with old friend and monster sax player, Martin Fierro (Thelonius Monk, Jerry Garcia, Zero) and renowned keyboardist Austin Delone, among other stellar talents. That CD launched the hit single, "The Restless Kind," (#10, ACQB), and got her music compared to Van Morrison (Americana Media Guide, Aug 2008) and her voice to Janis Joplin crossed with Joan Baez (Music Connection).

Tequila Time, the latest release from this prolific troubadour from Northern California, finds her once again pushing the edges of the Roots Americana movement, and upping the rock ante. Natasha James once again has some stellar musicians in her line-up. They recorded 17 songs in 4 days, including getting tones, she said on KRCB in an interview and live performance this month (Mindy's Mix, KRCB, 91.1 FM, Rohnert Park, CA). Players include Dave Aguilar (Norton Buffalo), with whom she did a duet that night, Ian Lamson (Elvin Bishop), Steve Evans (Coco Montoya, Elvin Bishop), Herman Eberitzsch (Malo, Lee Oskar), and Woody Vermeire (Commander Cody), all engineered by Ronnie Rivera, who also plays the drums in this stellar line-up.

This band gets people up on their feet from rock, country, bluegrass and blues persuasions, all knocked out by the originality of the tunes and the quality of James' voice; at times like Bonnie Raitt, at times like Janis Joplin and Emmylou Harris (Music Connection). We saw kids as young as 15 outside a club stop and stare in at the windows, swaying to a James' original! While the record is great, the live performance is where this band shines...these guys are players, and it shows.

Tequila Time debuted on the Roots Charts at #20 in the country, #19 in the state and #23 internationally. Not bad for a sophomore record.

Natasha James has just been officially nominated in the "Country Artist of the Year" category for the 20th Annual Los Angeles Music Awards....taking place in November at Paramount Studios in Hollywood, Calif. Natasha won "Country Album of the Year" last year at the 2009 L.A. Music Awards for Tequila Time.

January, 2010


November, 2009






October, 2009

NATASHA JAMES Interview, December, 2009
By Shauna O'Donnell - MUEN Magazine

WHO AND WHAT ARE SOME OF YOUR MAJOR INFLUENCES WHEN IT COMES TO YOUR SONG WRITING?

Bob Dylan, certainly. His lyrical stream of consciousness made an indelible impression on me as a young person, I am speaking of his early material, Nashville Skyline, Blonde on Blonde. Jackson Browne, melodically and instrumentation and mood; John Prine, the master of the character driven song; Van Morrison, for the space in the music. It is so easy to make it cluttered, and what makes his stuff work so well is he gives it space; The Rolling Stones, for those interweaving guitar parts and background gospel harmonies on rock tracks with countryfied licks. We could stay in this question a LONG time...Little Feat, in particular, my friend and idol, Richie Hayward, who inspired my song, Get Out Of My Way, the drum arrangement, dropped beat, or bar of 3, whatever you want to call it. His drumming inspired that tune.
Celebrity Interviews Real TV - Live at Los Angeles Music Awards
November 12, 2009