FFAR/ROOTS CHARTS | RADIO | PRESS | ONE SHEET | STATS | TOUR DATES | BOOKING

European Tour
Listen live from The Bluebird Cafe at Country Music Messe Berlin.


Join Natasha James duo, Natasha James and James Harman, as they begin the European tour at the 2011 Country Music Messe in Berlin, February 4-6, 2011, Postbahnhof at Ostbahnhof Street of Paris Commune 8 - 10243.
The tour continues with a performance at the Salle Hotel de Ville, 6200 Chatelet, Eden, Charleroi, Belgium on Thursday, Feb. 10, 2011 at 8:00 PM.
Natasha James and James Harman bring the high octane sounds of Natasha James music to Crossroads Café, an acoustic event! Sunday, Feb. 13, 2011 at 5:00 PM. Crossroads Café, Mechelsesteenweg 8, Antwerp, 2000, Belgium.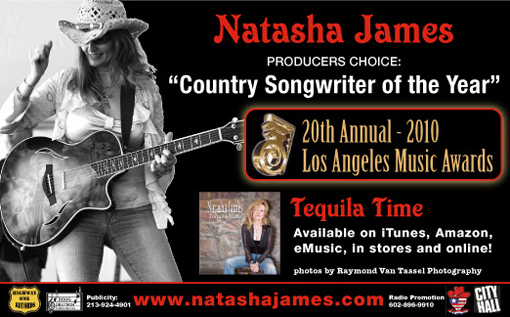 "Natasha James can certainly kick up the dust with a jukebox-worthy saloon song about drinking or life on the edge. She can also paint a poignant lyrical portrait of life in America, complete with all its blemishes. However, she is at her finest when she is doing a little bit of both while adding a touch of the blues." AMERICAN SONGWRITERS MAGAZINE