REVIEWS | INTERVIEWS | COMMENTS

Comments About Tequila Time and Natasha James Band
Send a comment




"Wonderful CDs: Love the voice, the lyrics, the music and the musicians !!!
- Martin van der Laan
Country Stew / Radio Compagnie
www.radiocompagnie.nl
---

Natasha James takes fans on tour
It's "Tequila Time" and Natasha James has arranged a shuttle for her latest local show. She is performing with her band at Rancho Nicasio Bar & Grill. I'll be honest. I had to Google Nicasio, California. It's about 45 minutes outside of our little city near Point Reyes. The show is Friday, Jan. 29 at 8:30 p.m. For those who would rather shuttle it than drive themselves, there will be a pick up at Sonoma Valley Music at 6:45 p.m. The price depends on the amount of people taking advantage of the Tequila Time Tour Bus. With admission to the bar and one drink included, the price is pretty much the same as if you went on your own, however this way you can travel with friends and save on gas. Dinner is available during the performance. Call Sonoma Valley Music at 996.2196 to reserve a spot and get more information on the return times.
Cat Smith, Sonoma Valley Sun, January 28, 2010
Read the whole article Sonoma Valley Sun.
---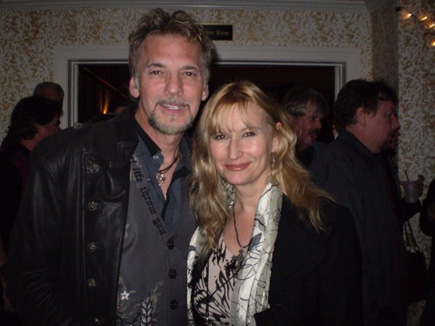 Kenny Loggins and Natasha James at NAMM 2010

---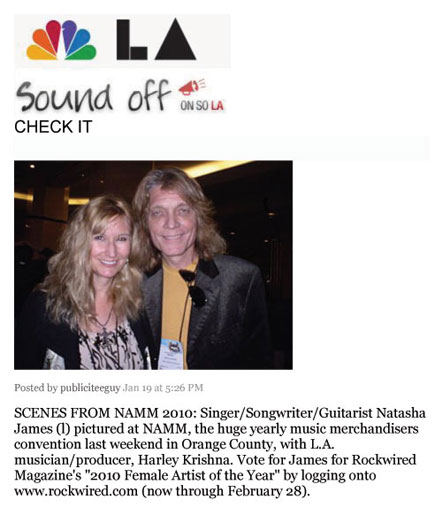 ---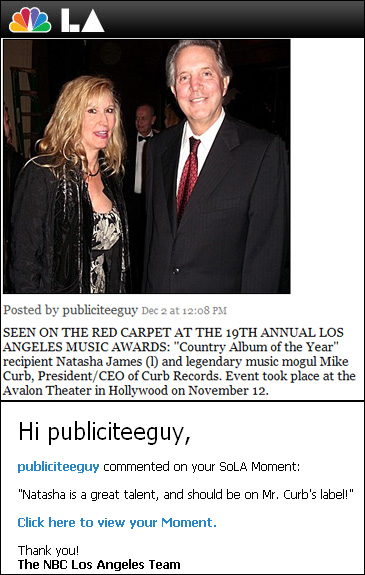 ---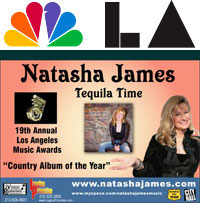 "Congratulations to singer-songwriter Natasha James, who just won "Country Album of the Year" for the 19th Annual Los Angeles Music Awards, Thursday, November 12 at the Avalon Theater in Hollywood. www.natashajames.com."
publiciteeguy, NBC Los Angeles, October 27, 2009
Read the whole article NBC Los Angeles.
---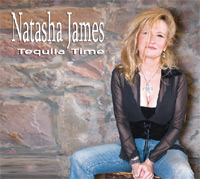 "For northern California Americana artist Natasha James, it's all about the groove; be it a blues rocker, a Tex-Mex toe tapper or a country tune, she comes through with a production that captures the right feel for the song on her latest CD "Tequila Time" on Highway One Records.
James does have a knack for conjuring up some of music's most celebrated singers, and these are her coolest vocals moments. Flashes of Kim Carnes (Bette Davis Eyes) phrasing slithers in like the slide guitar in "Get Out of My Way": "I was thinkin' about you/I was thinkin' about me, too/You got a ways to go before I'm gonna/ Walk my road with you/Hey baby won't you get out of my way". In "Straight to Hell", James tells the story of the darker side of drinking and other bad choices, with a Loretta Lynn straight-shooter approach: "The moment that I saw you I knew/I was along for the ride/It was the worst possible choice/But that's something I do very well/I got an uncanny ability with amazing accuracy gone/Straight to hell on the wings of a bottle/Straight to hell with my angels by my side/Straight to hell in fifth gear at full throttle/Straight to hell with my eyes open wide". A downright Bonnie Raitt bluesy performance is given in "If You Think This is Love", one of her best on "Tequila Time"."
Janet Goodman, Music News Nashville, October 22, 2009
Read the whole article Natasha James - Tequila Time.
---


"Natasha James's latest album was named Country Album of the Year by the Annual Los Angeles Music Awards.
It may be an enthusiastic publicist's cliche, calling singer-songwriter-guitarist Natasha James the "Crossover Music Queen," but like any hyperbole, mild or otherwise, there is a kernel of truth in it.
Her latest album, "Tequila Time," a 15-song opus on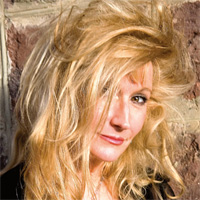 Sonoma County's Highway One Records, does indeed touch on myriad styles. They range from three-chord rock 'n' roll ("Straight to Hell") and Tex-Mex ("Cheetah On The Run") to barroom shuffle ("Stuck in Atlanta") and blues ("Ain't Done Nothin' Wrong"). Others, like "Fillin' Station," a tune about a young, nameless shooting victim lying on a city street, offer an intriguing amalgam of Latin and rock rhythms, while "Let Me Cry" is a simple, heartfelt break-up ballad that showcases a gift for incisive lyrics.
Just don't call her a country singer -- the San Francisco native prefers "roots rock" or "Americana" musician -- even though the newly released disc has been named Country Album of the Year, a honor from the Annual Los Angeles Music Awards that she will pick up Nov. 12. "
Richard Bammer, Vacaville Reporter, October 21, 2009
Read the whole article Crossing over to acclaim.
---
"Yeah I get really addicted to this sound and I LOVE the message. It makes me feel like Love does :-P I love it, you have a great talent you are surrounded by talented people who love and support you. It shows in your artistic expression and you inspire me to do the same. Well not to... do the same thing but you know what I mean. I'll be there supporting you, peace and thanks for the inspiration."
Jorge Zazueta-Chavez, comment about "If You Think This Is Love" video on Facebook
---
"Natasha James kicked a**" Chris Loh, IRON DOOR SALOON
---
"Thanks for a great show" Sooz Sykes, Goddess Grove stage, HARMONY FESTIVAL
---
"It's hard to top Natasha's live show" James Berry, SONOMA VINTAGE FESTIVAL
---
"Thanks for bringing great music back to the Bay Area" David Daher, LAST DAY SALOON
---
"Great songs, great singing, great stage presence, great musicians," Charlie Cowles, TALL TOAD MUSIC, after show at LAST DAY SALOON
---
IT'S "TEQUILA TIME" AT THE TRACY BEAN FESTIVAL! - SATURDAY, SEPT. 12
"Sultry Songstress NATASHA JAMES Natasha James performs at the Tracy Dry Bean Festival, 223 E. 10th St., Tracy, Saturday, September 12, 3:30-5 p.m. Free. Info:
(209) 835-2131 or log onto www.tracybeanfestival.com.
Watch for James interviewed live on KCRA-TV in Tracy Saturday, September 12.
James' Single "Tequila Time" Rapidly Ascending Mainstream, Hot 100, College, Hot AC, Country, Top 40 Radio Charts Nationwide.
"Tequila Time" Nominated In "Country Album Of The Year," "Get Out Of My Way" Nominated In "Country Single Of The Year" Categories For Upcoming '19th Annual Los Angeles Music Awards' In Hollywood, Calif."
All Access Magazine, 2009
Read the whole article Tequila Time at the Tracy Bean Festival.
---


"Being considered hotter than the blazing California wild fires, comes songstress, Natasha James - her album "Tequila Time," being a rapid aggression within the mainstream music scene.
..."Tequila Time," is nominated in the "Country Album of the Year," category and Jame's catchy tune "Get Out Of My Way," has been nominated for "Country Single of the Year" to top it all off, at this year's 19th Annual Los Angeles Music Awards.
Natasha has ... earned her rightful taste of the musician's spotlight. Allowing her musical abilities to soar ever so higher that it shall glide right up in and on through the clouds off into the stars."
Natalie Perez, LA Rock Music Examiner, September, 2009
Read the whole article Natasha's Stardom.
---
After watching Natasha James' videos, "Tequila Time" and "If You Think This Is Love" on YouTube.com, I anticipated great music on Natasha James' new Tequila Time CD. From the first track to the last, I was thoroughly DELIGHTED with the listening pleasure. Wow! This is a GREAT CD!
Natasha James has obviously LIVED. She weaves a tale of real life, from love we must let go to what we deal with in modern life.
Natasha and her magnificent band have created a magical experience for listeners with Tequila Time, a brilliant mix of toe-tapping entertainment and memories we all share...
10 Stars Natasha and kudos to all of your band and the folks who helped produce Tequila Time!
Listening to your CD is a very emotional experience for me, and honestly, I could write a review for every song.
Trisha Lombardi
www.printandwebdesign.com
---
Hi, Leila Chimes sent me your latest CD and I really love it; it is a superb effort indeed, airplay is guaranteed!
All the best, Massimo Ferro (Radio DJ "Highway 61," Alessandria, Italy)
---
".I am a fan of the technique of assembling a group of outstanding musicians, a top shelf producer.Ronnie Rivera. with some old school sensibilities and grinding out a good quality record with a classic sound. Natasha James newest effort Tequila Time is just that. It's an amalgam of blues, rock, alt-country and a dash of Tex-Mex for flavor, the essence of what roots music is supposed to be.add the rough edge of James' vocal timber, reminiscent of Janis Joplin or Alannah Myles, and you have a winning formula ripe for today's roots Americana movement."
Reb Landers, The Alternate Root, April 2009 issue
Read the whole article www.thealternateroot.com, page 28.
---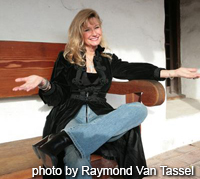 "With the country twang of Bonnie Raitt and the rocker style of Stevie Nicks, Sonoma resident Natasha James has been singing and writing music for as long as she can remember. But the release of her latest album, "Tequila Time," has brought James to the national spotlight as a force in the roots music scene. "Tequila Time" is currently at number 19 on the California Roots Music Report and number 20 on the American Roots Music Report, which tracks the number of radio plays an album receives. Her style of music speaks to the heartland and she's become a favorite on Midwestern radio stations but can also be heard on NPR."
Emily Charrier-Botts, Sonoma News, April 24, 2009
Read the whole article Singing from her Roots.
---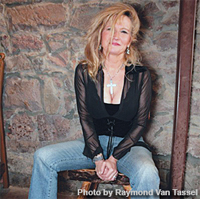 "... Playful, upbeat ease is indeed what colors Tequila Time, as James' confident band nails roots styles ranging from the old-time barroom shuffle of "Stuck in Atlanta" to the salsa/Tex-Mex mix of "Cheetah on the Run" to the country blues groove of "Ain't Done Nothin' Wrong." Gone are the horns that gave Bad Judgements a jazzy flavor, but Tequila Time ups the rock ante. "Straight to Hell" is a big, righteous ballad worthy of early '70s Rolling Stones, while "Get Out of My Way" is sassy Southern rock reminiscent of the Allman Brothers."

Karl Byrn, North Bay Bohemian, April 29, 2009

Read the whole article Pass the Patrón.



---
"... Natasha James is a fine singer and songwriter. Her style is laid-back and easygoing. It's obvious she's very comfortable in her own skin, as the saying goes. Most important, in my opinion, it sounds like she's having a good time.
James' simple, dead-on lyrics paint vivid mental and emotional images. The band is tight and the musicianship is up to the standard you expect from country musicians while covering a broad range of styles. There's a lot to like on this collection. I suggest you check it out."
Chon, Roots, Rock 'n Blues, May 20, 2009
Read the entire review Natasha James - "Tequila Time".
---
"Natasha James is a country singer from Sonoma, California, which is close to both Sacramento and San Francisco.
My favorite song is "Modern Life". It does a great job in painting you the picture of: lonliness, our busyness, divorces, cellphones, internet games, etc. The song is bundled in what sounds like a steel guitar and violins.
She's also doing a few dates throughout California:
08/08/09 Sonoma County Fair Santa Rosa, California
08/21/09 Iron Door Saloon Groveland, California
08/22/09 Iron Door Saloon Groveland, California
Tequila Time is available at most online shops, including eMusic and Amazon."
vu, weheartmusic, Vox.com, June, 2009
Read the entire review Natasha James - "Modern Life".