My Country
Has The Blues

Tequila
Time

Bad
Judgements

Hotel
Christmas

Airplay Direct
For radio download:
Tequila Time CD >
Bad Judgements CD >
My Country Has The Blues >
Room 203 >
NASCAR Time >

EPK for Booking:
ReverbNation >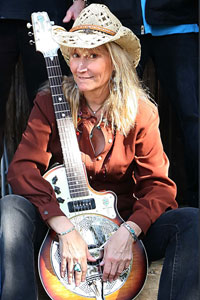 Photo by Raymond Van Tassel
Endorsed by










BAND | BIO | REVERBNATION EPK | AIRPLAY DIRECT EPK | ONE SHEET | STATS | STAGE INFO

Band Members
Natasha James: Lead vocals and rhythm guitars.
Natasha has been compared to a cross between Bonnie Raitt
and Susan Tedeschi, Emmy Lou Harris, Janis Joplin (MUSIC CONNECTION). Her music has been compared to the Allman Bros, Van Morrison, Gram Parsons (NASHVILLE MUSIC GAB).
Herman Eberitzsch: keyboards, backup vocals.
Herman has played and toured with Jorge Santana, Malo, Jules Broussard, Lee Oskar, Bobby Vega, Prairie Prince, and has been a staple on the Bay Area jazz and blues scene for 40 years.
James Harman: slide & lead guitars, backup vocals.
Although only 20, James is already considered a "monster player" among the musical community. He has cut his teeth with a host of well known musicians, introduced through his father, Texas musician Doug Harman, and already has played with the likes of The Rowan Brothers, Mike Emerson (Tommy Castro), John Main (Carlene Carter).
Russ Whitehead: bass & backup vocals.
Russ has shared the stage with the likes of Albert Lee, Norton Buffalo, Steve Miller, and is a staple addition to many recording projects for his prodigious vocal arrangement skills.
Ronnie Rivera: drums.
Ronnie is our ace engineer to boot, having worked with the likes of Poncho Sanchez, Madonna, Tracy Chapman. His credits are too numerous- see www.artistdirect.com or allmusic.com.
EXTENDED LINE UP:
Dave Aguilar: dobro/slide and lead guitars, vocals.
Dave is a virtuoso guitar player who was with Norton Buffalo's line up for ages.
Bobby Black: pedal steel.
Bobby is the last word in pedal steel. A stone cold professional whose history goes back longer than a lot of people have been born! He also played with Commander Cody and The Lost Planet Airmen, Asleep at the Wheel, the list goes on and on...
Woody Vermeire: violin, guitar, vocals.
Woody is an ace violinist who has worked with Commander Cody and the Free Mexican Airforce, Country Joe McDonald, Jim Lauderdale, Michelle Shocked, and a host of country rock musicians.